---
Conference links
http://vjeronauk.org/?free=weight-loss-after-going-off-lexapro&a70=d8 http://neverforgetphoto.ca/?lly=Kamagra-Online-Bestellen-Mit-Kreditkarte&700=37 NUCLEOELÉCTRICA ARGENTINA
NA-SA
Atucha site – Buenos Aires province, Argentine Republic.
follow link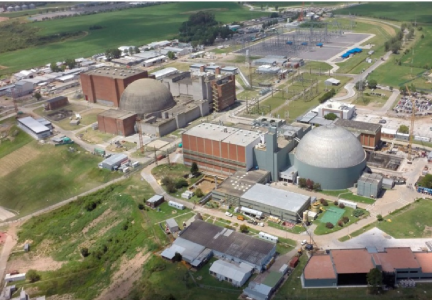 watch Nucleoeléctrica Argentina S.A. is the company which generates electric energy in a nuclear way, and it is an essential part of the development of the Argentine Nuclear Plan.
get link Nucleoeléctrica Argentina S.A. is the company which generates electric energy in a nuclear way, and it is an essential part of the development of the Argentine Nuclear Plan.
http://rcvisiontechnics.com/?serp=viagra-pharmacy-rx-one&5fa=c4 Atucha I was the first nuclear power plant in the Latin American region, and started its operation in 1974. Currently, it has a gross electrical power of 362 MW, as a fuel it uses a mixture of natural uranium (0,72%) and slightly enriched uranium with an enrichment of 0,85%. The NPP is cooled and moderated with heavy water (D20) and it belongs to the reactor type Pressurized Heavy Water Reactor (PHWR). The main constructor was the German company Siemens AG.
how to buy ventolin In the same nuclear site it is located Atucha II, with a capacity of 745 MW also based on natural uranium and heavy water. The main stone of the NPP was established in 1982, and between 1994 and 2006 its construction was stopped, until the reactivation of the Argentine Nuclear Plan. The reactivation of this work represented recovering specialized professionals and technicians, regaining the national capabilities for designing and building of nuclear power plants in Argentina. Atucha II began its operation in 2014.
propecia prescription online It is worth mentioning that currently NA-SA is responsible for the Life Extension and Revamping Project of the Embalse Nuclear Power Plant, as well as for the construction of a fourth and fifth NPP in collaboration with the China National Nuclear Corporation (CNNC).
watch These two nuclear power facilities are located approximately 100 Km away from Buenos Aires, so people interested in visiting the oldest (Atucha I) or newest (Atucha II) Argentinean Nuclear Power Plants might think of a means of transport to Buenos Aires City.
enter site Once in Buenos Aires, a meeting point and time will be set for heading the Nuclear Power Plants. The bus will probably be scheduled for Saturday early morning, so try to be in Buenos Aires by Friday night. Transportation from the meeting point in Buenos Aires to Atucha I-II NPP site is include in the fee but transportation from Bariloche to Buenos Aires must be covered by each participant. Participants within this technical visit will receive an email containing detail explanations.
follow site There are two possible ways to reach Buenos Aires from Bariloche: by bus or by plane.
Regarding the first option, there are many buses companies that cover that route. Among the most popular are Via Bariloche, Flecha Bus and Crucero del Norte, being the last one the only one with English language option available in its web page. For those who are keen on Spanish, Plataforma 10 may be of interest as it is a bus services search page (it is necessary to create an account to buy tickets and some extra charges might be applied).
When it comes to flying to Buenos Aires, the two airlines available are Aerolíneas Argentinas (SkyTeam) and LATAM (OneWorld). There are a wide variety of times tables, being Aerolíneas Argentinas the company with the greatest. In case you decide to take a flight with Aerolíneas Argentinas, be careful to check that the final destination is AEP instead of EZE (or if you do pick EZE take into account that Ezeiza airport is 30 Km away from Buenos Aires and a shuttle or taxi to the city can be above U$S 30).
follow site Do not forget that you have discount on flights with SkyTeam and Aerolineas Argentinas!