International Youth Nuclear Congress through its Kenyan affiliate YGN was represented at the 2nd African Youth Conference on Climate Change held in Nairobi Kenya organized by the African Youth Initiative on Climate Change (AYICC). Vice President of Kenyan Young Generation in Nuclear attended the 2-day event hosted at the Catholic University of Eastern Africa from 14th – 15th October, 2016. At the event bringing together over 100 youth drawn from Africa continent, Raphael Chesori showcased the global initiative – Nuclear4Climate by IYNC/SFEN and championed by KYGN at national level in the fight against climate change. This preceded the just concluded November, 2016 COP22 talks in Marrakesh, Morocco where IYNC exhibited to a global community on climate change.
It is evident that Africa is rising and so are its challenges on issues energy and environment. A number of African countries have shown interest in developing nuclear energy power programmes to address its growing energy demands. South Africa leads the way with NPPs with Egypt, Nigeria, Kenya and South Sudan considering going nuclear too. Africa is not exempted from the global cry on climate change detriments and it is rated a vulnerable continent. In the recent past Africa has witnessed climate fluctuations ranging from increased floods and landslides to extreme droughts and famine. These conditions have caused a lot of human suffering with women and children bearing the greatest brunt as the most vulnerable group. African heads of states and governments have initiated deliberated processes through high power delegations and intergovernmental meetings and conventions to put policy instruments into work in line with UNFCCC negotiated guidelines on climate Change. It is no doubt that nuclear power is part of the solution in achieving low carbon emission targets.
In view of these national and international policy processes and negotiations, African youth have not been represented adequately despite the fact that 50% of the African population is youth. It is against this backdrop that African youth have organized themselves to bolster efforts on youth capacity development in regard to climate change and inclusion as key stakeholders in policy process and related negotiations. The youth are currently championing climate changes causes through the Africa Youth Initiative on Climate Change (AYICC), a movement that was founded 10 years ago in Nairobi Kenya during the second Conference of Youth (COY2) preceding the 12th Conference of Parties of the United Nations Framework Convention on Climate Change (UNFCCC – COP12) in 2006. The youth network brings together African based youth organizations, university groups, rural youth groups, schools, and individuals working on climate change and sustainable development issues in the 45 member states to enhance capacity development and strong partnerships among African youth on the fight against change.
Under the auspices of Africa Youth Initiative on Climate Change (AYICC), the 2nd edition of the African Youth Conference on Climate Change (AfriYOCC) was held on October 14 – 15, 2016 in Nairobi – Kenya with the theme 'Making Climate Finance work for African Youth'. This conference brought together key stakeholders that included, but not limited to, youth led climate and environmental organizations, youth climate activist, grassroots youths and farmers groups, youth from indigenous communities, media and artists, government and non-governmental organizations in Africa with special interest on climate finance, climate change, food security and sustainable agriculture.
The overarching aims of the AfriYOCC 2016, was to create a platform for African youths and AYICC members drawn from its 45 member states to; discuss current and emerging issues on climate change in Africa, network amongst the membership through sharing experiences, knowledge and actions, hold face-to-face strategic meetings on country and local level activities on climate change mitigation and adaptation. The conference delved on the following;
✓ Climate Smart Agriculture (CSA)
✓ Climate Change and Development in Africa
✓ Food Security and Sustainable Consumption
✓ Youth and Disaster Risk Reduction
✓ Innovative ways of financing youth-led climate change initiatives
✓ Sustainable Innovations on Climate Change
AfriYOCC 2016, was a build up on the 1st successful edition convened from 26th – 27th October, 2015 in Victoria Falls, Zimbabwe, with the theme "African Youth Responses to Climate Change and Food Security, Action from the Frontline."
The AfriYOCC 2016 realized the following key outcomes;
✓ An African youth position paper for CoP22 and an engagement strategy in involving African youths in climate change policy and negotiations were developed.
✓ Green Initiative projects and practices for potential replication in member states
✓ New partnerships on climate change issues across the African continent
✓ Best Practices Database of AYICC and Youth actions on climate change for dissemination through online or other channels
✓ An African youth strategy (2016-2020) on climate change and development in Africa
The conference was organized by Africa Youth Initiative on Climate Change (AYICC) in partnership with Africa Climate Policy Center (ACPC), New Partnership for African Development (NEPAD), Pan African Climate Justice Alliance (PACJA), Kenyan Ministry of Youth Affairs, National Gender Empowerment Commission (NGEC) and Sustainable Climate WATCH Kenyan secretariat.
Participants pose for group photo, AfriYOCC 2016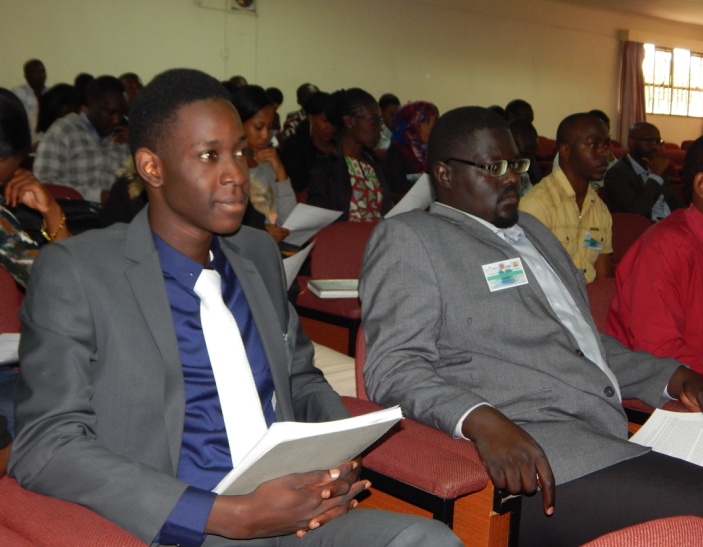 Participants follows proceedings keenly, AfriYOCC