Conference link
General Conference Materials
[wpdm_file id=286] [wpdm_file id=287]
Conference Schedule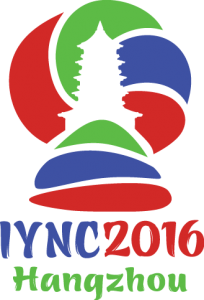 The current conference schedule is available for download from this link:
[wpdm_file id=267]
You can also see it online here (click on image to enlarge and view the full schedule):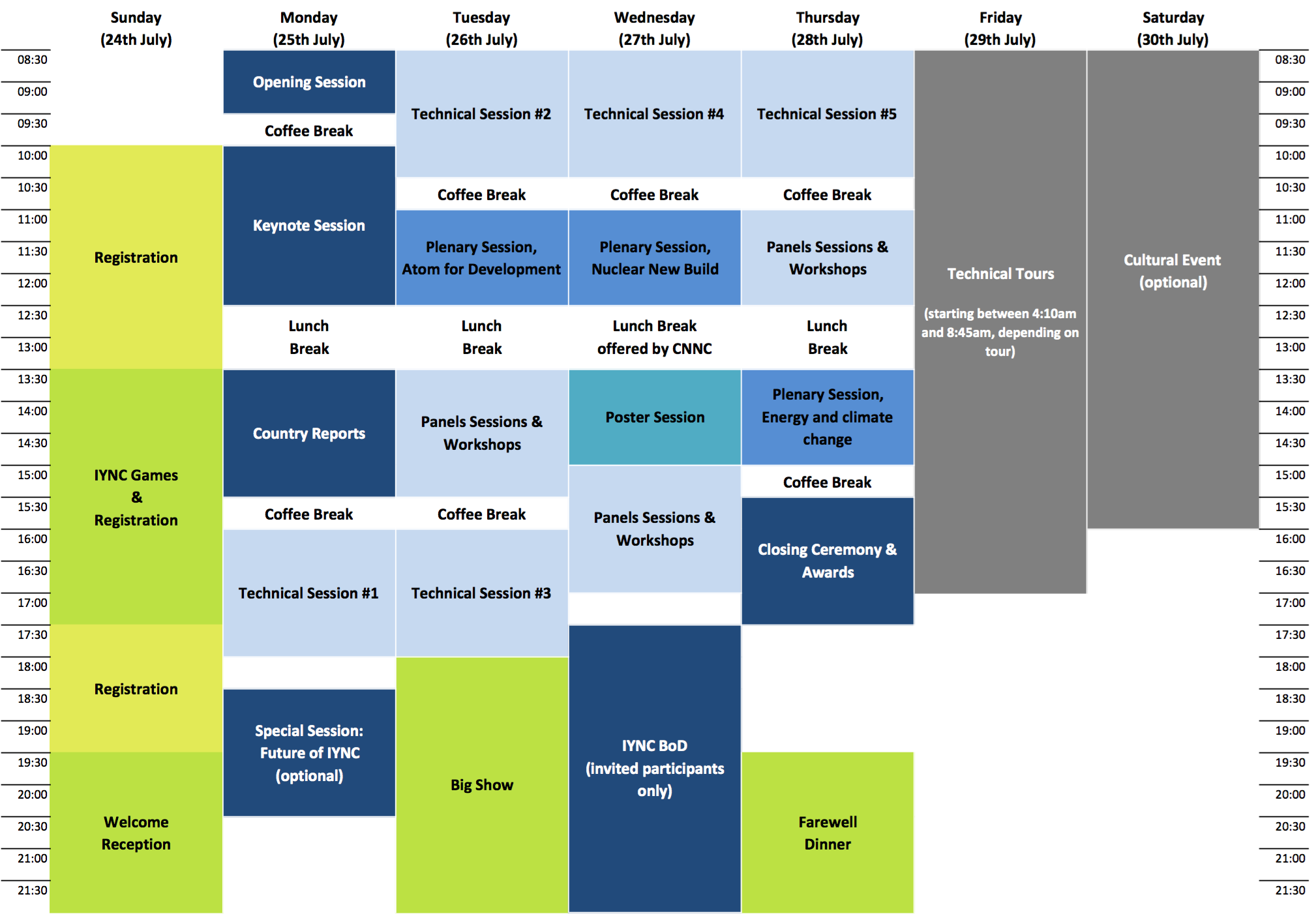 Detailed Schedule and Speakers
Detailed technical schedule day by day with session, time and speakers (subject to possible changes)
Monday 25 July
Opening (8.30 – 9.30)
Mr. Qian Zhimin, President CNNC
Mr. Dazhu Yang, DDG IAEA
TBD, CAEA
Keynote (10-12.30)
Mr. Zheng Dongshan, Deputy director CGN
Mr. Wang Zhongtang, President SNPTC
Mr. Gavin Liu, Asia President Westinghouse (to be confirmed)
Mr. Jon Ball, Global head nuclear power plants business GE-Hitachi
Country reports (13.30-15.30)
Technical session 1 (16.00-18.00)
Tuesday 26 July
Technical session 2 (8.30-10.30)
Plenary, Atom for Development (11 – 12.30)
Mr. Dazhu Yang, DDG IAEA
Mr. Collins Juma, Acting CEO Kenya Nuclear electricity board
Mr. D. S. Wisnubroto, Chairman BATAN
Panels sessions (13.30 – 15.30)
PS2 – The science of nuclear communication
Mr. Todd Allen, ThirdWay, USA
Mr. Gaston Meskens, SCK-CEN, Belgium
Ms. Myra Lyana Razali, MNPC
Ms. Lenka Kollar, IAEA
PS5 – The future generation in nuclear: recruiting new leaders
Mr. Pierre Morvan, Thomas Thor
Mr. Robert Massy, Vice president Global Talent Management, Westinghouse
Mr. Dimas Irawan, BATAN
Mr. Mincheol Park, KONICOF​
Prof. Wenxi Tian, XJTU
Workshops (13.30-15.30)
WS2 – A sustainable nuclear energy: caring about the next generation
WS4 – (Nuclear) Crime Scene Investigation
WS7 – Safety culture
WS10 – The locks of nuclear industry
WS12 – Application of Nuclear Techniques in cultural heritage characterization. Fake or original?
Technical session 3 (16-18)
Wednesday 27 July
Technical session 4 (8.30 -10.30)
Plenary, Nuclear New Build (11 – 12.30)
Mr. J. Benjamin, Vice President Westinghouse
Mr. Gao Liben, Director CNEC
Mr. Chen Hua, President, CNNP.
Poster session (13.30-15)
Panels sessions (15 – 17)
PS1 – Advanced reactors: technical, economics, licensing and policy aspects for energy innovation
Mr. Jean-Paul Grouiller, CEA Astrid
Mr. Kun Chen, SINAP
Mr. Eric Loewen, Chief engineer GE-Hitachi
Mr. Jimmy Wang, Vice President Terrapower
Mr. Lin Tian, SNERDI
PS6 – Nuclear safety, security, safeguards and 3S regimes
Mr. Riccardo Chiarelli, WANO
Ms. Cinthya Heinberger, PNNL / JAEA
Ms. Reina Masuzawa, JAEA
PS4 – Women in all things Nuclear
Ms. Lenka Kollar, IAEA
Ms. Se-Moon Park, President WiN Global
Dr. Shannon Bragg-Sitton, Idaho National Laboratory
Ms. August Fern, August Fern Consulting LLC
Dr. Lan Xiaoli, Board Member of WiN-China
Workshops (15-17)
WS5 – Fusion
WS8 – How to finance a new nuclear project
WS9 – Mentoring programme
WS14 – Communication: where do we fail?
WS15 – Fuel cycle
Thursday 28 July
Technical session 5 (8.30-10.30)
Panels sessions (11-12.30)
PS3 – Radioactive waste – meeting the challenge
Prof. Gu Zhongmao, Professor CIAE
Mr. Andrew Newman, Nuclear Threat Initiative
Mr. Gaston Meskens, SCK-CEN
Ms. Patricia Herau Yang, AREVA
PS7 – Nuclear safe lives: Atoms for better healthcare
Mr. B. Omuvwie, Ecko Hospital Lagos
Mr. J. Wambani, Kenyatta national Hospital
Prof. Tianyu Ma, Professor Tsinghua University
Workshops (11-12.30)
WS1 – Nuclear in the energy mix, potential and challenges
WS3 – Accident tolerant fuels and cladding for NPP
WS6 – Severe accident management – An integrated approach
WS11 – World Wide business
WS13 – Communication in case of crisis
Plenary, Energy and climate change (13.30 – 15.00)
Prof. Kenji Yamaji, Director General, Research Institute of Innovative technology for the Earth
Prof. Jiankun He, Professor Tsinghua University
Mr. Bruno Lescoeur, Advisor to the President and CEO, EDF
Mr. Jonathan Cobb, Senior Communication manager, WNA
Closing ceremony (15.30-17.30)
[otw_is sidebar=otw-sidebar-1]