Update 10 April 2021


In preparation for the UNFCCC climate conference, COP26, which is scheduled to take place on 1-12 November in Glasgow, Scotland, we are happy to share the latest version of the Nuclear For Climate Position Paper: 
Nuclear4Climate was established in 2015 in preparation of COP21 in Paris. Since then, it has gained the support of 150 nuclear associations around the world with the aim to make nuclear part of the solution for climate change.
Immediately after the establishment of Nuclear4Climate, International Youth Nuclear Congress has officially released a letter of declaration to all the participants of the United Nations Framework Convention on Climate Change (UNFCCC) Conference of the Parties 21 (CoP21)
Website: http://nuclearforclimate.com/
Facebook https://www.facebook.com/NuclearforClimate/
Twitter @Nuclear4Climate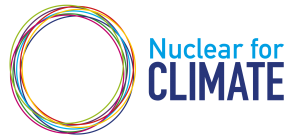 Nuclear4Climate is a grass roots initiative created jointly by the French Nuclear Energy Society (SFEN), the American Nuclear Society (ANS) and the European Nuclear Society. With the United Nations Framework Convention on Climate Change (UNFCCC)CoP 21 climate talks due to take place in Paris in December 2015, this initiative has brought together nuclear scientists from all corners of the globe in their efforts to promote the environmental credentials of nuclear energy.
And the Young Generation is part of it! The International Youth Nuclear Congress (IYNC), the European Nuclear Society Young Generation Network (ENS YGN), the Romanian Nuclear Energy Association (AREN) and the French Nuclear Society Young Generation Network (SFEN JG) are involved in this initiative.
We are asking you to show your pride in Nuclear Energy by uploading a picture of yourself with one of the attached messages to social media including the #Nuclear4Climate and #IYNC hashtags.
This action can only be a success if it includes young people of the nuclear industry from all over the world. Join the team!
Twitter link: https://twitter.com/nuclear4climate
Dr. Pachauri