Nuclear technology is dynamic and has a variety of applications in different sectors. The future surely holds some more significant applications of nuclear technology. We are aware that the use of nuclear technology for defense/weapons programs has created a negative sentiment with the general public. Images of nuclear bombings and past accidents at nuclear plants have contributed to this negative outlook and has challenged the acceptance of nuclear technology for civilian and peaceful applications.
The mere development of technology is not sufficient – the same technology should be accepted by the general public depending on its applicability on the basis of its social, moral, ethical, economic impacts on society at large. Likewise nuclear technology has tremendous potential to be useful for mankind but this should reach to everyone in the public in a language which everyone can understand.
My name is Priyanka Manoj Jawale and I am a Ph.D. in Nuclear Energy (liability) Laws from India. Being from the legal field, it is important to understand the technology first and then critically examine its application in society. We can't study law in pure isolation; it touches every aspect of human life. Likewise in today's globalized modern world we can't study and progress in technology in isolation, every aspect of technology has socio-legal reflections.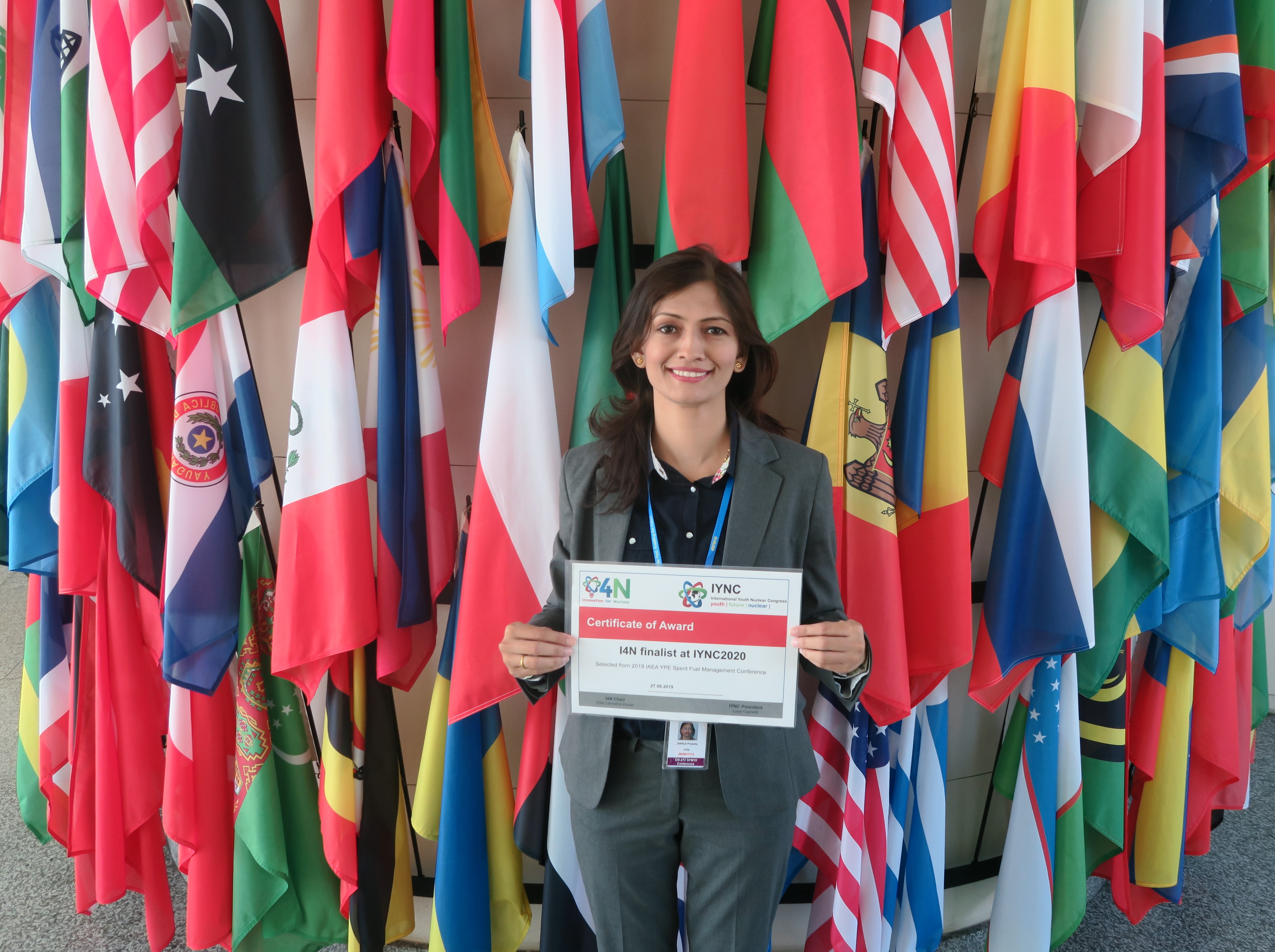 In the course of my Ph.D., I had the opportunity to understand the liability structure of the nuclear energy laws at national (Indian legal framework) and International level. Various International Conventions and Treaties from the IAEA and OECD NEA in the field of nuclear energy laws speak about the structure and application of legal principles relating to nuclear technology.
Recently, I has the opportunity to participate in the 'International Conference on the Management of Spent Fuel from Nuclear Power Reactors: Learning from the Past, Enabling the Future' 24 – 29 June 2019, at International Atomic Energy Agency (IAEA) Vienna, Austria.
My paper, 'In The Name Of Sustainable Development: Socio-Legal Challenges of Nuclear Energy and Spent Fuel Management' was selected and I presented a poster on it at the IAEA in Vienna. My paper was regarding the socio-legal aspects of spent fuel management at national and international level, where I attempted to connect the 'The Johannesburg Declaration on Sustainable Development' agreed at the United Nations World Summit on Sustainable Development in 2002, and the three pillars of sustainable development, namely 'Economic Pillar', 'Environmental Pillar' and 'Social Pillar', to nuclear technology and its applications.
Apart from linking nuclear technology to sustainable development, my paper commented on various challenges which nuclear plants face at local and global level. Nuclear power can contribute to the mitigation of toxicity, air pollution effects and fulfil future energy requirements. To avoid public protest, there should be quality/skilled human resource management in the nuclear sector which should be easily available. The supplier and the operator of nuclear plant should have mutually agreed terms and conditions while signing the contracts for business; also they must be backed with safety and security measures. An all-inclusive approach for site selection for nuclear plants and spent fuel storage/management is required for avoiding issues with the public.
The paper also commented on the judicial approach toward nuclear technology and highlighted that the lack of transparency and awareness is another reason for civil societies to be distrustful in nuclear power programmes.
Actions for educating stakeholders are equally important. There is a need to have strong regulatory institutions and the nuclear industry should have economic/financial institution or advisory or monitoring board for the welfare of the nuclear power sector itself, which will promote universal safety culture and will help in reducing common errors. The public should be given an opportunity to study and express their opinion on reports such as Site Evaluation Report (SER), Environmental Impact Assessment (EIA) and the Safety Analysis Report (SAR). Apart from this, my paper highlighted many aspects related to law, society and sustainable development through nuclear energy.
My experience at the IAEA conference was not only about learning new, interdisciplinary things but I was also motivated to continue further work in this area with more dedication. The surprise came on the last day when I came to know about the International Youth Nuclear Congress and their IYNC2020 Congress in Sydney, Australia.
The IYNC is a unique platform for the young generation of nuclear experts. I am very humbled to have received the 'Certificate of Award' being a I4N (Innovation 4 Nuclear) Finalist at IYNC2020, selected from the 2019 IAEA YPE Spent fuel management conference. I am thankful to the IYNC Team and especially to the Luca Capriotti, Elsa Lemaître-Xavier, and Mcmanniman Laura from whom I am getting to know more about the activities at IYNC.
At present I am working as a postdoctoral fellow at the Department of Law, Savitribai Phule Pune University (Formerly University of Pune, which is known as an 'Oxford of the East' in India). Now I am working in the area of "Outer Space Liability and Use of Nuclear Substances: International and National Law and Policy". The focus of my present work is on application of nuclear substances/batteries/reactors/sources in Outer space and its related laws and policies at national and international level.
During deep space explorations and interplanetary missions it is challenging to use solar panels for energy generation, in this case nuclear is the potential option; but it also has some limitations and risks. Outer space is a common heritage of mankind. It is our moral and legal duty to work on the sustainable use of Outer space. The effective law and policy in this regards is my area of interest.
Nuclear energy's potential for energy generation and electricity is directly associated with employment followed by development. We cannot achieve outreach programs without help from media; they are our key partner in development. I am thankful to my University's media cell, all my professors, colleagues', friends and family members for their support. Looking forward for IYNC2020 and wishing the IYNC team great success for the Congress.