IYNC is leading a social media campaign together with the organizations supporting the Nuclear4Climate initiative as part of New York City Climate Week #CWNYC. The goal of this campaign is to make #Nuclear4Climate a trending topic during Climate Week.
In order to get involved we ask you to do the following:
September 21-28 in New York: the Climate Week will bring together influential global figures who are leading theplan to limit global warming to 2 degrees Celsius. It is not possible to achieve this without including nuclear energy as a part of the low carbon energy mix.
We need your help to make our voices heard – if you agree that nuclear power is a necessary part of the energy mix to reduce carbon emissions, please take the following actions:


Change your personal profile picture to the following Nuclear4Climate graphic during NYC climate week (September 21-27).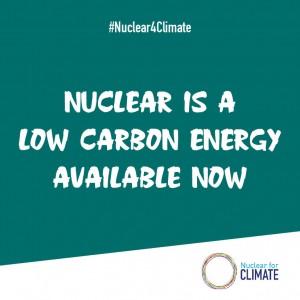 Like and share our posts of our Facebook page: http://www.facebook.com/pages/International-Youth-Nuclear-Congress/


Please follow @Nuclear4Climate and retweet the tweets from @Nuclear4Climate and @IYNC with #Nuclear4Climate and #CWNYC
To make your voice a part of the Climate Week twitter events use #ClimatechatNYC to join the conversation.
Tuesday September 22, 2015 Topic: 'Climate Change Solutions: Energy Security and UNFCCC Policy'
http://www.climateweeknyc.org/events/twitter-chat-series-climate-change-solutions-part-1
Thursday September 24, 2015 Topic: 'Climate Change Solutions: Businesses 'Call to Action'
http://www.climateweeknyc.org/events/twitter-chat-series-climate-change-solutions-part-2
Thursday September 24, 2015 Topic: Low Carbon Energy Awareness for the Climate
http://www.climateweeknyc.org/events/low-carbon-energy-awareness-for-the-climate
Join the discussion with #LowCarbEnergy
Young experts in energy production and concerned with climate change from around the world will be available to answer your questions.
2 sessions taking place from 10:00 am -11:00 am and 6:00 pm – 7:00 pm EST