IYNC Participates at IAEA 61st General Conference
The IAEA 61st General Conference (GC) took place in Vienna, Austria, on 18 – 22 September 2017. The General Conference consists of representatives of the IAEA Member States meeting in a regular annual session to consider the IAEA's budget and to decide on other matters (pictured above). It is an opportunity for IYNC to introduce its activities and the role of Young Generation in Nuclear (YGN) network in nuclear science and applications.
IYNC has participated in the IAEA GC regularly since 2013. This year IYNC contributed actively to two sides events: "Future of Nuclear Energy: Engaging the Young Generation" organised by the Department of Nuclear Energy and "Nuclear Knowledge Management and International Project on Transfer Knowledge to Next Generations" organised by the International Union of Veterans in Nuclear Energy and Industry (IUVNEI) together with the Russian Federation permanent mission in Vienna. Both events were opened by the IAEA Deputy Director General (DDG) Mikhail Chudakov, Head of the Nuclear Energy department, and provided a unique opportunity for IYNC to introduce its activities.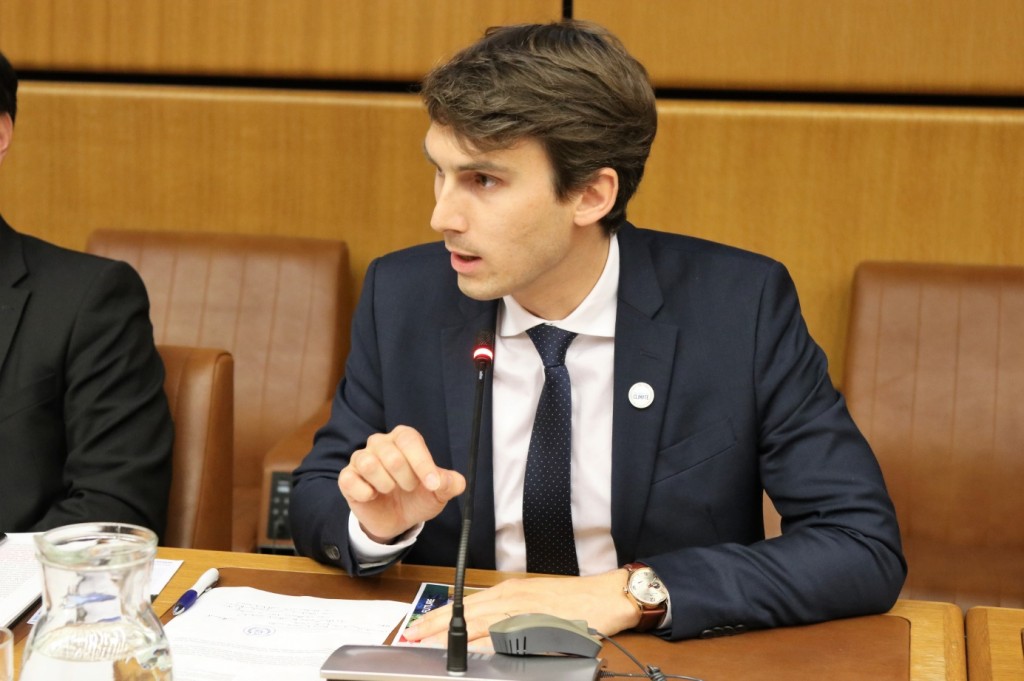 IYNC President Denis Janin, pictured above (photo credit: IAEA), discussed the role of nuclear YGN in knowledge transfer and leadership development, showing concrete examples such as mentoring programmes, soft skills seminars, multi-cultural integration and best practices. Those side-events also enabled IYNC to discuss plans for future collaboration with other organisations engaged in knowledge transfer activities between generation and across international boundaries, in particular with the United Nations Nuclear Young Generation (UN-NYG) group, recently reactivated in Vienna.
Participants to the GC also visited the IYNC booth (pictured below) during the event. IYNC delegates, joined by representatives of the European Nuclear Society Young Generation Network (ENS-YGN) and the Austrian YGN (ÖKTG-JG), explained the IYNC mission and recent activities. In particular the IYNC team focused on advertising the upcoming conference IYNCWIN18, to be held in March 2018 in Bariloche, Argentina.